The first spacecraft to attempt a landing on the far side of the moon is due to blast off from a launch facility in China, a historic step in lunar exploration.
The Chinese space agency's Chang'e 4 mission aims to drop a robotic lander and rover into the moon's vast and unexplored South Pole-Aitken basin, the largest and deepest impact crater in the solar system.
"Going to the far side of the moon is a major technological feather in the cap for China," said Katherine Joy, a lunar scientist at the University of Manchester. "The Chinese lunar space programme is hugely ambitious.
"It's going to a place that is really special for lunar science. The impact crater carved a huge hole in the lunar crust and possibly into the lunar mantle. It potentially unlocks rocks that we wouldn't normally find on the surface of the moon."
Also read : Important Factors to be considered before phone purchase
If the moon shot goes smoothly, the probe will swing into lunar orbit, descend on thrusters and then drop the final few metres to the barren surface in the first week of January. Once the dust has settled, the lander will deploy a ramp for the onboard rover to trundle down. In all, the mission will deliver more than a tonne of hardware to the moon's surface.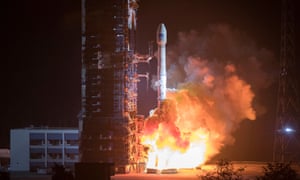 Further, for immediate updates on space and science, click on Tabmob.
Reference